Pec tears at the CrossFit East regionals: the causes and how to avoid it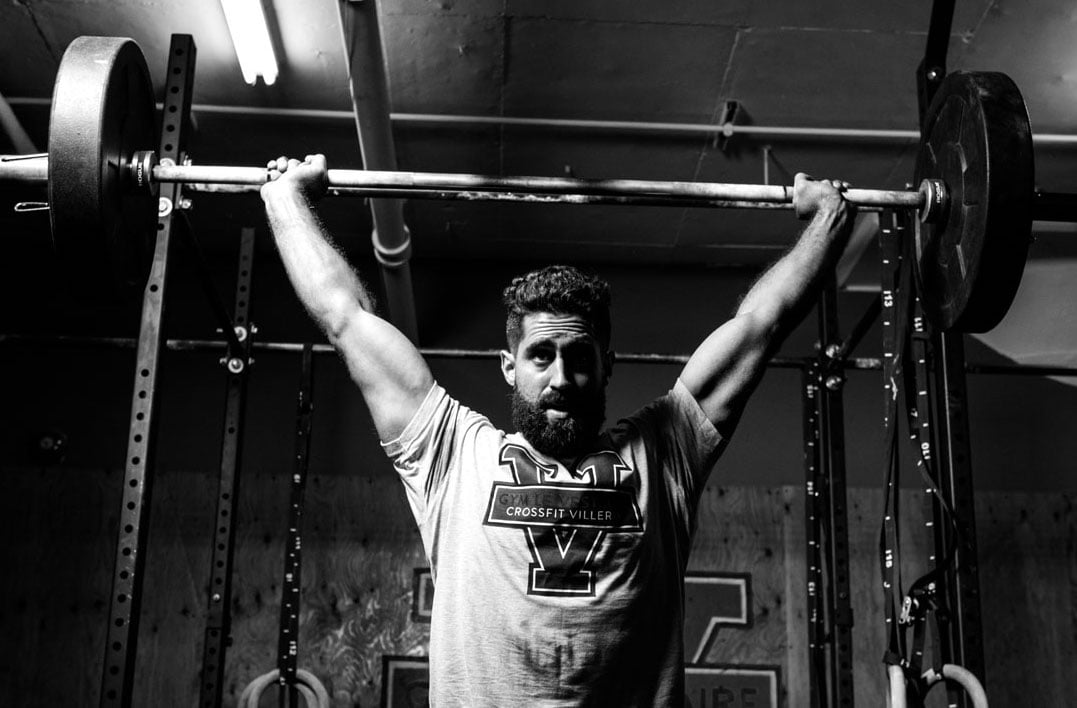 by Karim El Hlimi
Last weekend, I was at the CrossFit East Regionals as a coach. If you we're in the athlete warm up zone, I was the guy with the fanny pack, doing weird things with a band with his athletes. I was warming up my athletes when I started to hear about those guys getting injured during the second event on Friday. What are the causes of pec tears and how to avoid it?
If you don't know anything about the CrossFit Regionals, it's kind of like our national championship, the last step before getting qualified to the world Games. Everything start with a world-wide online competition where each affiliate gym can put their members scores on what we call the « leaderboard ». The top 20 male and top 20 female of each region advanced to that second stage, as well as the top 15 team.
The events of the day.
Event #1
Run 1.2km on an air runner, then 12 rounds of 4 strict handstands push ups, 8 chest-to-bar and 12 air squats wearing a 20lbs vest for the men, and a 14lbs vest for the women.
Total « pressing » work : 48 handstands push ups
Event #2
21-15-9
Db snatch @80/55
Kipping ring dips
Total pressing work: 45 kipping ring dips
The causes you can't control
#1 – The movement
A pec tear can generally occur during weight training. You probably seen a couple of video of lifters doing a super heavy bench press, then grabbing his chest after his last rep. So it can be causes by someone lifting a huge amount of weights, or the abused repetition of the same movement, such as a ring dip. In this case, we have to look to that specific movement has it contain a dynamic portion involving a stretch reflex. In the « kipping » portion of the movement, your using your hips to generate a vertical motion that help the pressing portion of the movement. As the you reach the top of the movement and to be faster, you drop as fast as possible in the bottom position to use that kip as fast as you can. Sounds like your using an important upper body stretch reflex in that movement. So just do the mat. Just before hitting 45 highly dynamic ring dips, you just hit 48 weighted strict hand stand push ups. That's a call for putting a huge focus on your prep and getting your CNS ready for this.
#2 – The judging system is based on volunteering
As you know, CrossFit is considered a « professional sport ». Just like the UFC, it's a huge organization taking care of a whole competition, starting from the Open, where everything is based on local gym, their community, and their local organization. The next step for those who qualified, is the regionals where volunteers judge your performance. It's not surprising as a spectator, to hear people asking about how this athlete have a « good rep » while the other, performing the exact same movement, has a « no rep ». A lot if discrepancies exist between the judge's work. I saw one athlete performing more than the number of reps prescribed passing his elbow lower than 90 degrees. Just imagine the total stress created on that gleno-humeral articulation. Now put this situation where the athletes have to perform super heavy deadlift and they have to over-extend at the hips, to make sure they have « a good rep ». So much stress on the spine. These are causes that can be controlled with proper education or even camera system. Some of these athletes trained for many years for this moment, this could be something that could draw this sport in the future.
The causes you can control
#3 – Your warm up
I was talking with one of the physio over there (Dominic Baillargeon, Next Generation physio), about the poor warm up athletes were doing before going into that second event. Considering the work, and also, all the preparation athletes did, it was obvious for the big men there was a high risk of tears (because everyone that's had  pec tears, where the biggest guys).
The thing we saw the most was static stretching. It's obvious now in the scientific community that a static stretch will not prepared the muscles involve in your movement to perform a dynamic movement. Just like a sprinter stretching his hamstring before doing a 100m sprint all out, stretching your pec before doing 45 kipping ring dips will just decrease your performance as well as your CNS respond.  We saw also athletes doing to 3 to 5 sets of the exact same movement for 10minutes and they were ready to go.
The warm up we suggest
If you we're there as an athlete, you must have been a bit afraid of what could happen to your pec during that second event. So, here's a specific warm up to perform just before your second event.
2-3 sets, take 30sec between each movement
A1. Double kettlebell front rack carry 30 seconds
A2. One arm OH DB carry 30 seconds/side (progress your weight on each sets)
A3. Banded pull down 3x15seconds hold (make sure your thumbs are turned in but your shoulder retracted)
A4. Any kind of PNF pectorals activation 6x5sec on 5sec relax (on this one make sure you apply around 75% of force against the post, with your scap engaged)
A5. Yoga push ups 2×10 seconds hold
A6. Top of ring position 3x 15 seconds' hold (make sure you're in a full extension position with the rings slightly turn out)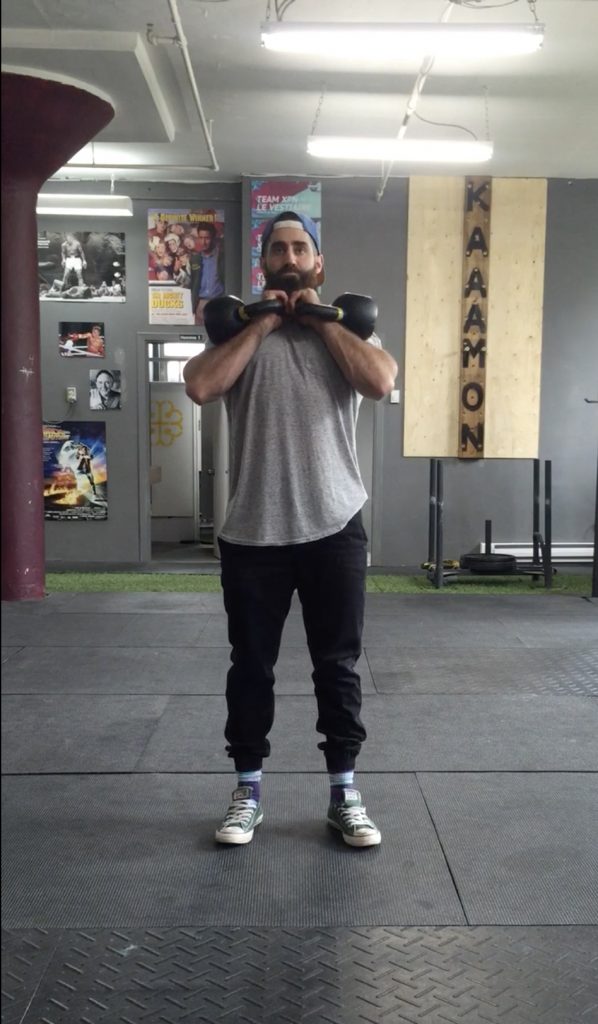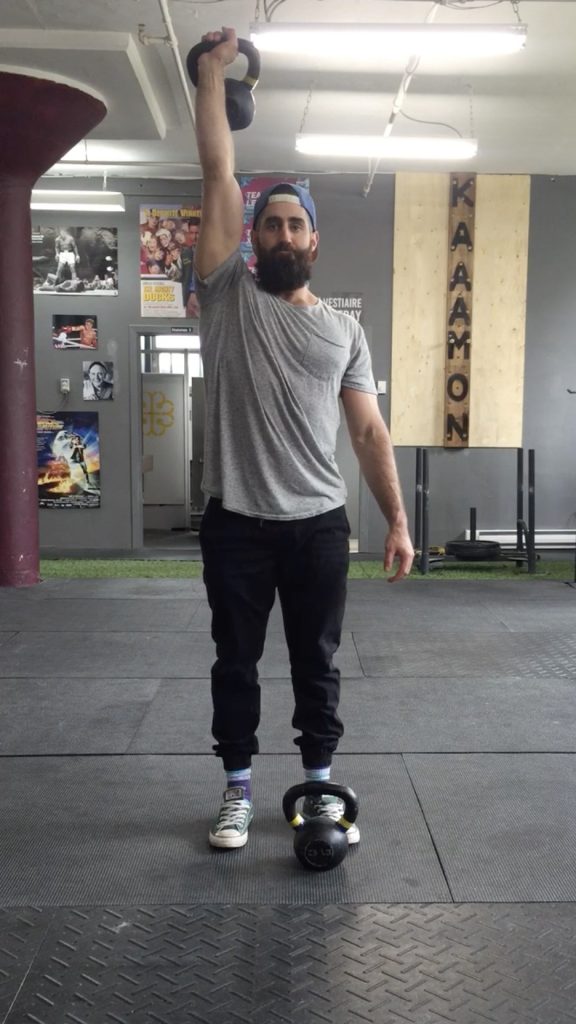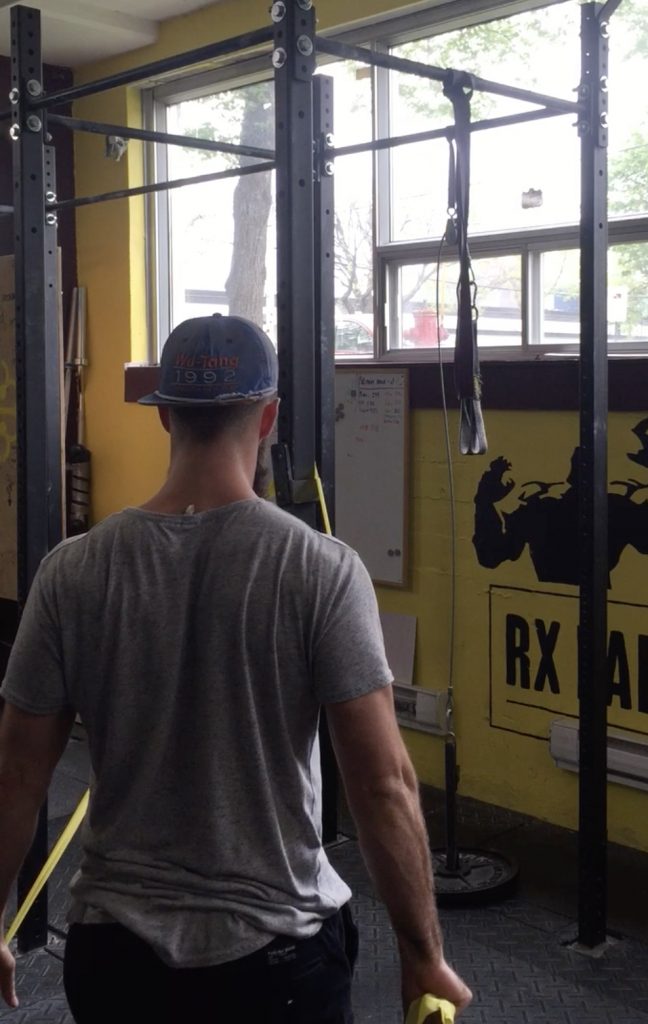 — KEH