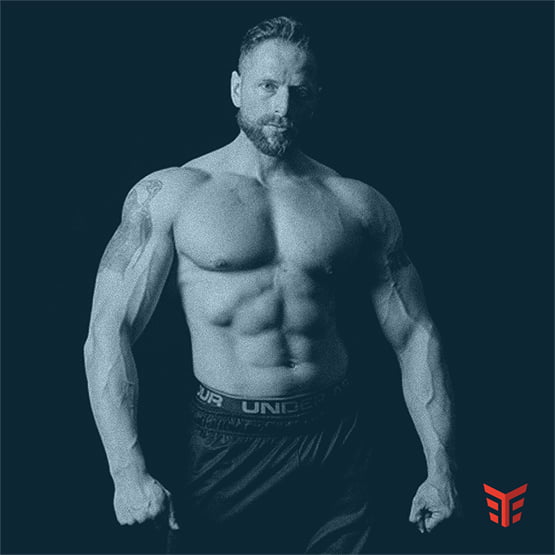 STEPHANE AUBÉ
Stéphane Aubé has worked in the fitness industry for more than 12 years. He works as a trainer and advisor for Hungry For Victory, a company he founded which specializes in nutrition and physical development for athletes of all disciplines. He has worked with diverse customers ranging from body-builders, strength athletes, track athletes, professional stuntmen and circus athletes, as well as those who simply want to transform their physical appearance. He has himself competed in body-building and has served as model for various store or supplement brand. He is specialized in extreme physical transformations and has trained several fitness athletes for competition in local as well as national events.
 
"Christian and I have known each other for 10 years. When I met him, I had already followed his career through his capsules on various training websites. His vision stuck with me, as did his philosophy on strength and hypertrophy. One day, he came to the gym I worked at to base srt up office and offer his services. Whereas I clearly had the physique of an apprentice, when I saw him in person, I told myself that this guy had clearly understood something that I had not yet seized. After our first exchanges, I was subjugated by the quantity of knowledge this bald head could contain!
"He was first a mentor, then an boss, then a colleague, and today, I can count Christian as a friend with whom I share as much on the professional level as a psychological one. When Christian spoke to me about the Thibarmy project, I was so glad that he had finally deployed his services internationally. To be integrated to his team is an honor. His teaching has been the base of my development as a trainer. Today, to be able to teach and exchange at his side is a much a personal as a professional achievement.
I am honoured to be part of the Thibarmy squad and to work aside talented professionals whom I respect a lot. I have always had a broad and open vision, and to be able to contribute my knowledge within this multi disciplinary team will not only help me to rise to a higher level, but also make our services solid and of a rare versatility.
To reach your potential, you need to be to be surrounded by the best. Thibarmy is the link between all the avenues of your potential!