The service
Our Online Consult service in Body Composition Optimization will give you access to specific information related to fat loss, hypertrophy, nutrition and training to improve your body composition. This service is geared toward improvement and/or correction of applied strategies and overcoming of plateaus. It also covers fitness contest and/or peaking advice. The call is designed and aimed at a discussion and suggestions, no diet or training plans will be prescribed.
$99,97 / Hour
Overview
Whether you are someone who trains, or a trainer yourself, this service can help you:
Create strategies to improve, help or correct body composition plateaus

Identify underlying issues and sources that can alter results
Modulate and overview peaking strategies to help you or your clients get into condition for show day (advice and suggestions)
Identify weaknesses and their causes, help you create a more complete physique development overall
…and much more!
What does the service include?
A 1-hour Online consult session
FAQ
Does it work on another platform?

This service is offered on the Skype platform. You will need the Skype application as well as a high-speed internet connection.

Can I get coached via this service?

Our online coaching packages offer a variety of services to meet your need. The Skype service is an additional tool to help support you.

What time zone are Skype calls scheduled in?

The Thibarmy squad resides in Eastern Canada, and as such, calls will be scheduled in EST.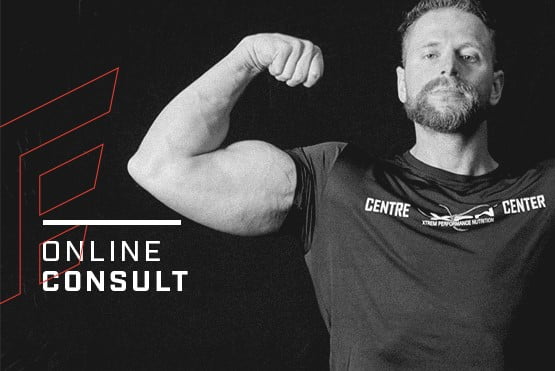 Stéphane Aubé
Stéphane has been working in the fitness industry for more than 12 years. He works as a fitness coach and advisor for Hungry for Victory, a company he founded which specializes in the nutrition and physical development of athletes of all disciplines. He has worked with a diverse clientele ranging from bodybuilders, strength athletes, athletics, professional and circus stuntmen and actors, as well as those seeking to transform their physical appearance. He himself has competed in bodybuilding and served as a model for various magazines or brand supplements. He is specialized in extreme physical transformations and has trained many fitness athletes in both local and national competitions.